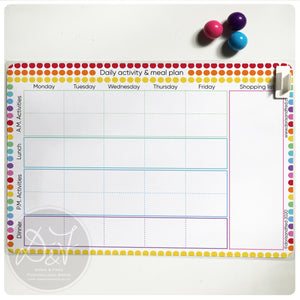 An A4 lightweight magnetic reusable activity and meal planner.
You choose the background pattern and header title.
If you need different headings for rows just ask.
Perfect for family life or childcare settings
your chart is printed on thin magnetic 'paper' and laminated. included is an adhesive clip to add to the planner or to your fridge and a fine tipped back dry erase marker pen. wipe clean with a damp cloth or paper towel. and use hand sanitiser if it gets grubby.
To choose your cover design please go to the cover design section of the website https://www.dorisandfred.co.uk/collections/all-cover-choices and you will see a number of collections. click on a picture to see more. Each design is named on the photo and that corresponds with the drop down menu. for example 'caravans & bunting' or "April lilies" any problems please message me.